Should You Be Using Canva?
Should You Be Using Canva?
One of the biggest changes I've seen in design since I started in this industry is how much more accessible it is to the average person.
When I started dabbling in digital graphic design, the available programs were limited, had a steep learning curve, or were very expensive. In my early days when I was getting creative with Paint and Powerpoint or figuring out how to use tables to maintain a layout in Word, I would have been ecstatic to have a program like Canva available.
Even now when I have the professional software available to me, I've found Canva to be a useful tool, particularly when it comes to collaborating on a project. Every once in a while, I'll have someone request a graphic with a few lines of text they can edit as needed, and Canva has been the perfect solution in those situations.
BUT I've also spent a lot of time trying to fix or convert files that have been built in Canva, and I've learned that it's great for some things, but there are some projects it's not ideal for.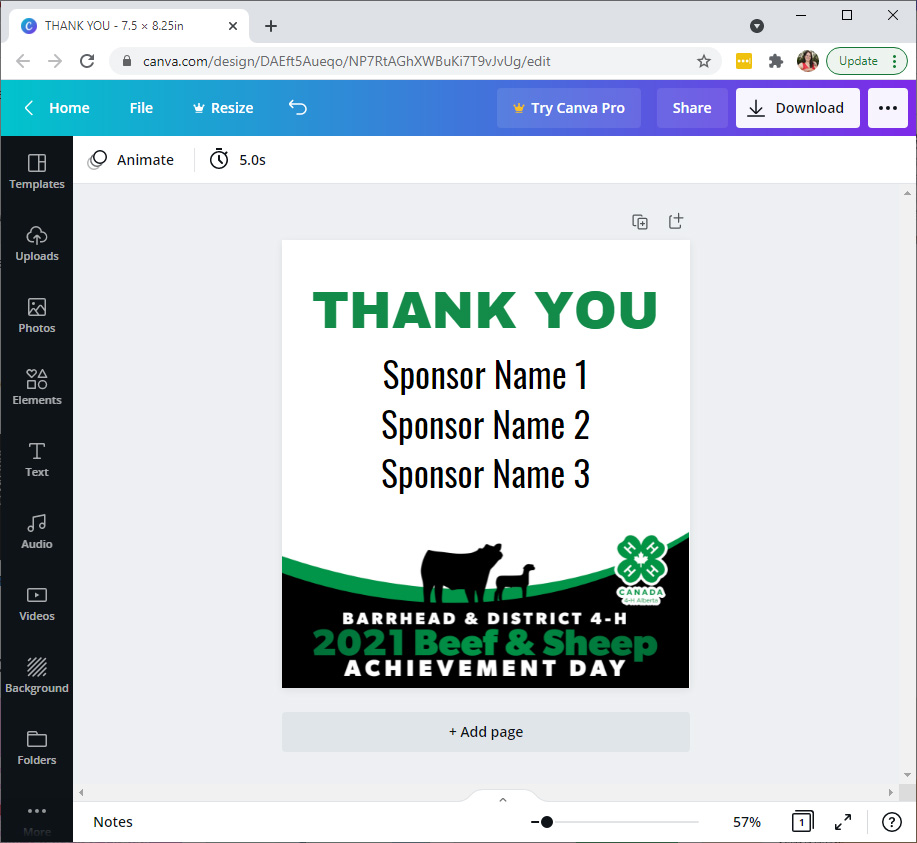 When should you use a program like Canva, and when should you look into more advanced software, or seek out a professional?
Social Media Graphics

Canva is a star when it comes to creating graphics for social media. If you want to take a DIY approach, there are lots of functional templates to choose from.

Or, if you want something customized, Canva is a great way to collaborate with a designer who can build you custom templates and styles, and then you can change them up as needed.

Educational Handouts

I love that Canva has a whole section of templates for classroom printouts that gives teachers easy, affordable access to worksheets and posters they can quickly customize to use in their classrooms.

It's also a great option if you are giving a presentation and need a hand-out that covers your key points, but want it to look a little more interesting than plain text.
DIY Posters and Flyers

Canva can be a great tool for throwing together a last minute, print it yourself, poster or flyer for a small local event or promotion.

However, if you need to do a large print run through a professional printer it might not be the best option, as it doesn't allow you control over things like color mode, bleed settings, image resolution, and converting text to outlines.

Resumes

When it comes to building creative resumes, Canva has presented a much simpler alternative to word processing software - but there are some things to consider.

When selecting a template, be aware of the resume standards for your industry or location - for example, it's often not a good idea to put a photo on your resume. Also, be aware that some resume reviewing programs may have a hard time reading creative resumes.
Logos

To make it simple, logos built in Canva don't meet the basic requirements you should look for in a logo design. 

When you have a logo professionally designed, you should receive files in multiple filetypes, colour modes, and in both vector and raster formats. Canva doesn't have the ability to export with all of those options.

And more importantly, it's just not possible to create a truly customized logo in Canva because it doesn't let you draw or edit individual graphics.

Canva itself actually recognizes this limitation, and their terms of service specifies that their logo templates are meant to be for inspiration only, and specifically prohibits using any of their stock images or content in logo or trademark designs.

This comes direct from the Canva site:

Print Publications

For a two page newsletter or a short information sheet, Canva can be a quick easy solution. But for any large publication, investing in professional alternatives will save you time and effort.

A "do-everything" program like Canva just can't offer the enhanced features that are available in modern page layout programs.

While it might take me a few minutes to update the layout of a multi-page document, editing the same file in Canva one page at a time could take hours or days. Canva provides extremely limited typography options, preventing use of full type families and glyphs.

Canva also comes up short when creating print files. It doesn't allow you to review image resolution, convert text to outlines, or change the colour mode of your document - which could all result in your printed documents coming out looking a lot different than what you thought you sent in.
Canva is a great program, but it's not a one-size-fits-all solution.
If you're working on a project that will be professionally printed, make sure you know your printer requirements
If you're using a DIY logo builder, check into the terms and conditions to make sure you can legally use the logo