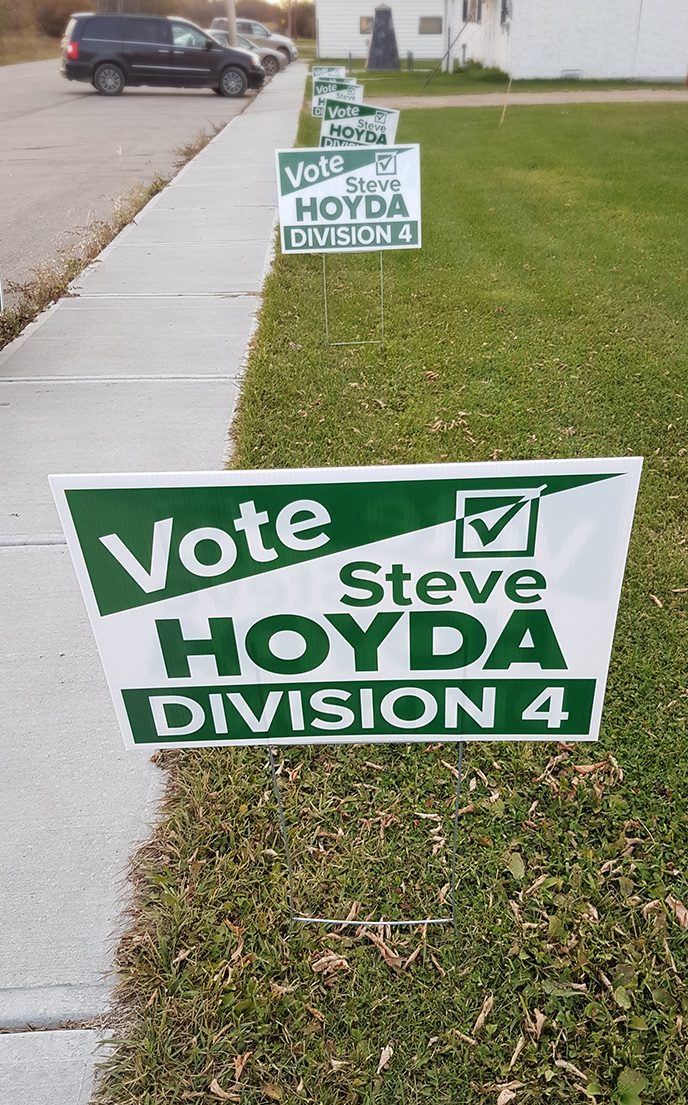 With the municipal elections going on throughout Alberta this past fall, I was approached by a local candidate about putting together some promotions for his campaign. In addition to brochures, he wanted a large quantity of signs to put up throughout the division.
Although I have designed plenty of signs in the past, this project presented a couple of new challenges. First of all, budget was a concern as when ordering in large quantities the price adds up quickly. Second, the election was coming up fast so turnaround time was a concern. And finally, the signs needed to be displayed on rural roads where vehicles are moving fast, so they needed to be easy to read from a distance.
The project brought to mind one of my former co-workers who was fond of catch-phrases. I learned a lot at that job, but one of the things that's always stuck in my mind was his reponse when people would come to our team looking for solutions both cheap and in a hurry. "You can have it done fast, done cheap, or done right," he would say, "pick 2 of the the 3." It doesn't happen often, but on this project I was able to hit all 3 of those goals.
I sourced a Canadian supplier who was able to print the signs within a week at a great price point, and the signs looked great and did their job. Plus, it was definitely fun seeing my work on display everywhere I went for those few weeks before the election!
So if you've got a project, and you're not sure if it's something I am able to do, just ask! I'm always open to taking on new projects, and bringing your ideas to life! If there's something you would like designed but are not quite sure how to fulfill your vision, send me a message. I would be happy to share some ideas and help come up with a plan that suits both your needs and your budget.